Eine neue Art der Klimaforschung
Wir sind ein interdisziplinäres Team of researchers at the University Heidelberg, which combines empirical findings in der Umweltphysik und Geographie zu den Quellen von Treibhausgasemissionen mit den Sozial- und Wirtschaftswissenschaften, um zu verstehen, woher die Emissionen kommen und wie Wissen über Emissionen Auswirkungen auf das Klimahandeln hat. Dabei konzentrieren wir uns auf die subnationale und lokale Ebene, um zu testen, ob hochauflösende Klimadaten zu verstärktem Handeln auf individueller, gesellschaftlicher und Governance-Ebene führen können.
---
New Paper: Zooming-in for climate action—hyperlocal greenhouse gas data for mitigation action?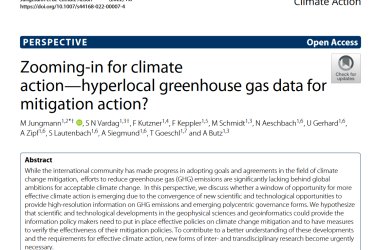 Members of the Climate Action Science project have published a new paper on the potential of high-resolution greenhouse gas data. They discuss whether a window of opportunity for more effective climate action is emerging due to the convergence of new scientific and technological opportunities to provide high-resolution information on GHG emissions and emerging polycentric governance forms.
---
Online Workshop: Informational Governance and Climate Action
Between 20-21 September 2022 we will bring together top-notch international scholars working on these issues, in a two day online workshop. The main aim of this workshop is to identify the emerging issues in this new interdisciplinary field, with a particular focus on climate action science.
As the information revolution continues, climate change must remain high on public and political agendas around the world. Information plays a crucial role in dealing with climate change and thereby empowering governments and citizens to take action. As a result, the analytical concept of Informational governance is gaining increasing importance as it has the potential to explain societal changes appearing in the Information age, resulting from new patterns of information flows.