Online Workshop: Informational Governance and Climate Action
As the information revolution continues, climate change must remain high on public and political agendas around the world. Information plays a crucial role in dealing with climate change and thereby empowering governments and citizens to take action. As a result, the analytical concept of Informational governance is gaining increasing importance as it has the potential to explain societal changes appearing in the Information age, resulting from new patterns of information flows.
Between 20-21 September 2022 we will bring together top-notch international scholars working on these issues, in a two day online workshop. The main aim of this workshop is to identify the emerging issues in this new interdisciplinary field, with a particular focus on climate action science.
---
New Paper: Zooming-in for climate action—hyperlocal greenhouse gas data for mitigation action?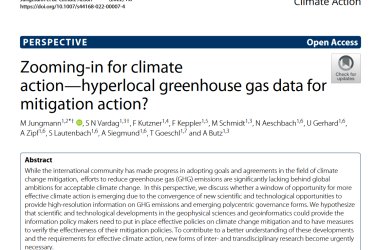 Members of the Climate Action Science project have published a new paper on the potential of high-resolution greenhouse gas data. They discuss whether a window of opportunity for more effective climate action is emerging due to the convergence of new scientific and technological opportunities to provide high-resolution information on GHG emissions and emerging polycentric governance forms.
---
Session on Climate Action at Geneva Health Forum
In May 2022, Climate Action Science member, Dr. Max Jungmann, moderated a session on "the impact of climate change on health: what is the scale of the problem and what action to take" at the Geneva Health Forum. Panelists included Dr. Maria Neira, Director of the Department of Public Health, Environment and Social Determinants of Health
at the World Health Organization, Prof. Dr. Gueladio Cissé from the Swiss Tropical and Public Health Institute, and other distinguished speakers.
---
Gemeinsamer Online-Workshop mit Forschenden aus Kalifornien und Heidelberg
Am 2. Februar 2021 haben wir unseren ersten internationalen Online-Workshop des Projekts Climate Action Science mit Teilnehmer*innen aus den USA und Deutschland veranstaltet. Der Workshop begann mit einer Begrüßung durch Mary Nichols, der ehemaligen Vorsitzenden des California Air Resources Board und beinhaltete Keynote-Vorträge von führenden Wissenschaftler*innen im Bereich Climate Action Science sowie Networking-Elemente und einen kurzen Co-Creation-Teil, um die Grundlage für zukünftige gemeinsame Initiativen zu entwickeln.
---
TED talk zu Klimawandel Aktivismus
Sehen Sie sich diesen TED-Talk unseres Teammitglieds Prof. Timo Goeschl an, um einen Einblick in unsere Forschung zu bekommen: